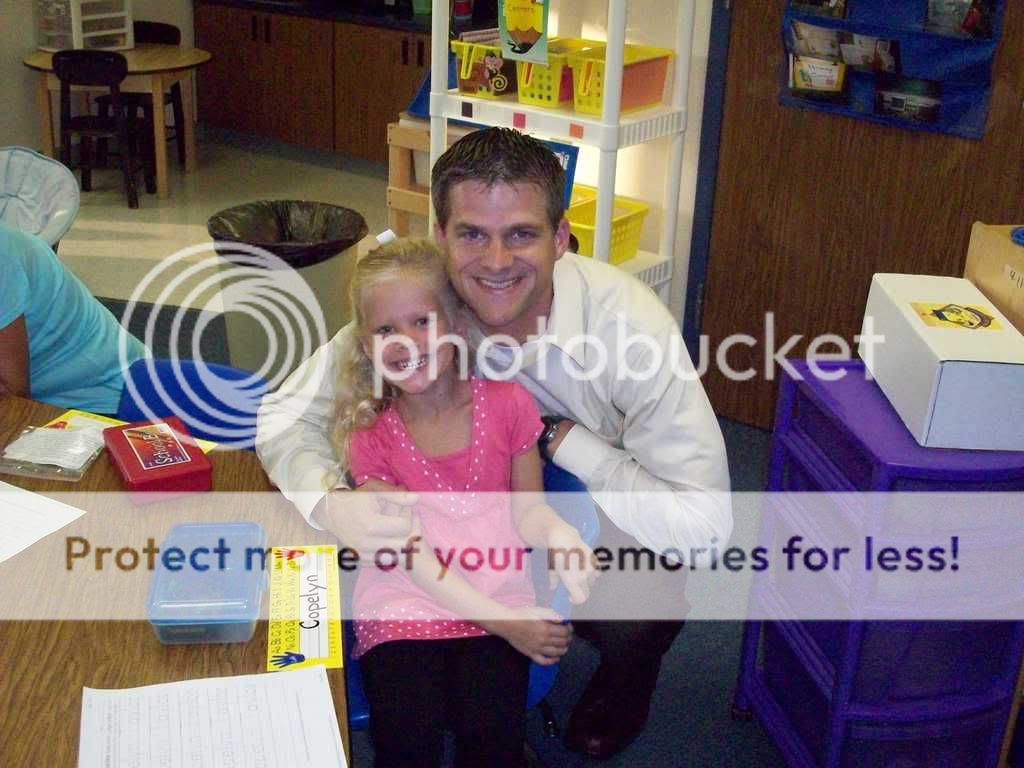 Well, we did it…first day of school and all-day kindergarten. I left all three of my babies and I have to admit, it sucked.
The morning started off in a flurry- we had set out their clothes last week for the first day, but that preparation didn't matter- Addie's pants weren't comfortable and her shoes were too big (which they were) and Brookie couldn't find her shirt, so this sent us in another direction. Addie changed into comfortable worn out capris and old tattered shoes (nice), and Brookie misplaced her shirt and her entire pile of new clothes is lost somewhere in the house, yes the entire pile. Last week we crossed another milestone, I asked them if they wanted to match on the first day and they gave me a resounding, prompt "NO". What??? You are twins and so cute when you match, but I did always say that they could choose to match or not when they are older, so I had to let it go! Until Brookie couldn't find the shirt she wanted to wear and had to go with the second favorite that matched Copie, point for mom!
Anyways, we got to school and I was ok dropping Addie off, and then ok walking into Copie's class, but got stuck at the cute teacher's note on her table. The teacher is cute, the note was not…seriously, let me just read the first part to you "Here is a little "gift" for you as you leave your precious one with me on the first day of school. As you hold this cotton ball in your hand, the softness will help you remember the gentle spirit of your child…. ." So sad! So, of course, here come the tears. Seriously, who's the kindergartener here, Copie or me??? I know you're not supposed to cry in the room, you be strong for the child and lose it in the parking lot. I was trying, but the note killed me, and I'm a little extra hormonal! I'm sure Troy was embarrassed for me. Anyways, she was great and so excited to be at school and we left her happily organizing her school box. So, off to the next room for Brookie. This was the first time in their whole lives they have been separated, and I know that sounds stupid, but it made me sad watching her walk into her room alone with just her backpack (that's bigger than her). They've always had each other to go to new places- a perk of being a twin- and that always comforted me, except today. Although she was quiet and couldn't eat breakfast, Brookie said it was ok for me to go so she could color her picture (with the pencil, not the crayons??) I think she was being really brave and that just tore my heart out- I have never seen that look on her face.
I left feeling sad, (and a little stupid walking back down the hall with all the "normal", not-pregnant parents staring at me while Troy rubbed my shoulder wondering what was wrong with his wife) but proud of my cute little babies and their eagerness to be there. And it helps that their teachers are adorable and I know they will be loved and safe.
Just the actual dropping off sucked…the rest of the day was great! What did I do? I took the day off …went to breakfast with friends, ran some errands, came home and took a nap. I felt I deserved it; all the gestating and tears wore me out, not to mention all the scary thoughts of someday dropping them off at middle school creeping in my head…it's just around the corner you know! Oh yea, I put Gracie in time out today for spitting apple juice all over the floor for the second time, and on my way back down the stairs I asked Addie what she wanted to wear tomorrow to school. She quickly said, "Ummm, maybe a shirt that says 'My mommy's mean to my little sister'!" Thanks Ad! Here's some pics from the eventful day and block party the night before!